Understand Their Worldview

Connections are not determined by demographics or psychographics. They are defined by a person's worldview.

Our beliefs about how the world works, what's important, what's of value, and what needs to be changed make up our worldview.

So the bedrock of connecting with someone and connecting him or her with others is empathy. Empathy that comes from understanding their shared beliefs and biases their worldview.

Connect with Their Passion

When you add a person's passion to a community's shared worldview you create a cause that connects. That's because it leverages people's biases instead of fighting them.

This shared cause gives you a huge opportunity. One that's bigger than messaging.

The opportunity is to help people. To create experiences around their passion. Experiences that help them connect to others and together fulfill their common cause.

Connect Them to Others

The internet is a connection machine.

You can use it to create connections between people in a human way that is difficult or impossible to do without technology.

You can use it to reach outside your community and bring others with your worldview to your cause.

Connect with a Leader

When it comes to connecting, leaders act as matchmakers.

They build horizontal relationships person by person. Inside and outside the community.

Then they transform the shared cause of the community into two important things – a passionate goal and a desire for change.

Provide Shared Experience

Leaders transform and connect people by helping them do things for their cause that they want to do but can't do by themselves.

They do it by creating experiences. They make things rather than just say things.

They make digital platforms that allow the community to do something they've never been able to do before. Something that makes a difference. Something that supports their purpose and propels the movement.

Tell Stories

Stories are the currency of a connected community.

Narratives help shape its identity. They give it boundaries and help establish its reputation. They paint a picture of the community's culture and values, heroes, and enemies.

By sharing our stories, we define who we are and what we stand for.

Leaders connect people through shared experiences and then share the stories that come from them.

Empower the Community

Leaders create movements by empowering the community to do things through experiences. Then they help them share their experiences.

They create platforms that people can use to make connections rather than commanding people to follow them.

They make it easy for everyone to take part and reward those who do the most.

They focus on serving their true fans and let them bring others into the community.
For Example

Susan and Jordan Jameson are a lot like a lot of people.

They have a mortgage they worry about. They have a family they love. And they have a dog.

Like a lot of people, they want to give something back.

But like a lot of people, they won't give to just anyone for just anything.

They don't want to just donate. They want to belong.

They want to be part of a community that shares their passion. They want to see the impact of their contributions on other people's lives.

They want to make a difference to someone.

MagnifyGood talked to a lot of people like the Jamesons. Then they talked to board members of the Community Foundation of Sarasota County.

They discovered that the key word for both is "someone." Emphasis on one.

So MagnifyGood helped the foundation connect emotionally with people who share their passion for making a difference. One on one.

Community platforms were used to connect the "giving one-on-one" community members with each other. And then to connect them with the foundation as leader.

The foundation shared stories of how one person and their generosity gave another person a chance.

Those stories spread.

And a movement began.

Because It Only Takes One.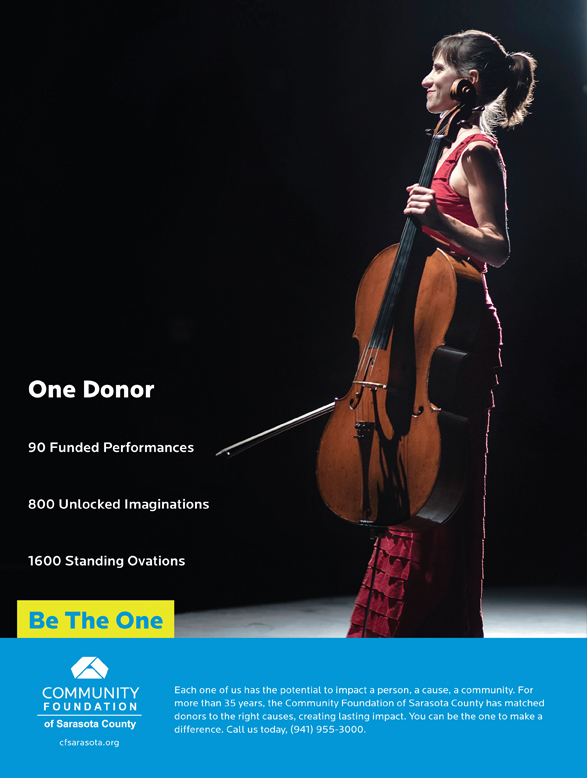 Consider
What is the cause or purpose that we share with our community?
What can we make that will engage them in actions around the cause?
What can we do to help them?
What kind of utilitarian platforms can we make that can unite them?
What things can we make available to them that will empower them to reach out to others outside the community?
What can we create that will connect all of them?