When it comes to sharing your organization's stories on social media, some platforms are simply better suited than others. With a 280 character limit, storytelling on Twitter can seem particularly daunting, but that shouldn't deter your organization from utilizing this tool to unleash its potential.
How, then, do you tell stories on a platform known for its fast-moving and brief interactions?
While Twitter is best used for in-the-moment reactions or short Tweets that link to additional content, there are various ways to use Twitter to convey even the most complex stories of your organization and its mission.
1. Tweet Threads
Perhaps one of the most common challenges for anyone using Twitter to share stories is the 280 character limit. Creating a Twitter thread, a series of Tweets from the same account, can help you overcome this storytelling barrier.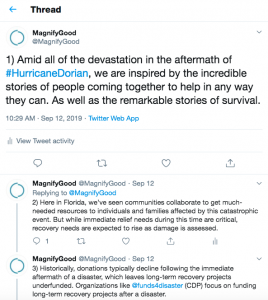 Instead of compromising some of the most important details of your organization's mission and impact, Tweet threads allow you to break down a larger story and share it over multiple Tweets, splitting it into bite-sized chunks.
Telling your stories in threaded tweets lends the opportunity to take your audience on a multi-Tweet storytelling journey with an enticing beginning, middle and end.
By numbering each Tweet — such as ½, ⅔ and so forth, you can alert your audience that there is additional context or an extended point to follow, making it easier to follow your thread. In addition, Twitter threads have the ability to drive multiple levels of engagement from one story, allowing others to share and comment on your thread's most relevant Tweets.
2. Twitter Moments
Twitter is arguably the most conversational social media platform there is. Driven by two-way communication, individuals flock to Twitter to experience and comment on what's happening in the world. Moments can be created from any account and Twitter makes it incredibly simple to source Tweets around a desired topic.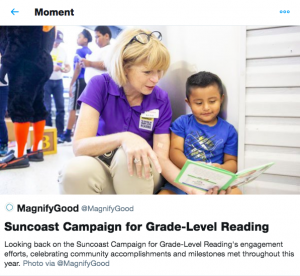 Unlike a Twitter thread which only encompasses Tweets from an individual account, the power of Moments rests in the ability to pull together diverse points of view from multiple accounts to highlight something unique or inform others about a story that needs to be shared. To effectively use this tool, the Moments you create should be timely, entertaining and informative. Including credible sources and linking to visual elements is key to making your Moments more captivating.
By bringing together the various points of views, experiences and stories of others, Moments capture and share the stories of your organization from different perspectives. Using a collection of notable Tweets, live commentary and visual elements will help your organization tell its story on Twitter in a powerful and interesting way.
3. Using Visual Content
In a quick and endless stream of Tweets, it's important to ensure that your content is enticing enough to stand out among a crowded feed. Studies have continuously shown that across social media platforms, sharing visual content in your posts is the most powerful way to grasp your audience's attention.
Beyond being one of the most effective ways to increase engagement, including visual elements enhances the stories your organization is telling on Twitter. Video is the easiest way to share a more complete story on Twitter, and by attaching multiple images to a Tweet, your organization has the opportunity to share stories in a way that is unique and stimulating. Including visual elements will elevate the stories you share. Rather than just "telling" your audience a story, visual elements help your audience live the experience and as a result, connect more emotionally with them.
Amplifying Your Stories on Twitter
By now, nearly every nonprofit is on social media, but it's not just a matter of being there — it's about leveraging these platforms to drive deeper connections with your donors and ultimately maximize your organization's impact. Using these elements in your social media strategy will transform its storytelling efforts on Twitter, affording your organization yet another medium for connecting deeply with its supporters.
photo credit: Sara Kurfeß via Unsplash