Years of working with the social sector has taught us that creating deep, meaningful connections is the key to powerful messaging. That is why as communicators, we choose to focus our hearts and minds on making connections for good.
Stories are at the center of human connection. When we seek to create change, telling stories is one of greatest tools to inspire people to take action and incite empathy among others.
When nonprofits share their stories, it has the potential to move others and inspire people to act in positive ways when many feel helpless. No matter the cause or impact, the stories of how they came to be have a power that resonates with us all.
We are inspired by these organizations and grateful to hear about their good impact on our world.
High Risk Hope
Every year, more than 16 Million women globally experience a high risk pregnancy. Because of this, 15 million babies across the globe are born prematurely — a leading cause of death for newborns.
Understanding how stressful and heartbreaking this can be for women and families is difficult for many who haven't experienced it firsthand. That's why Heather Barrow started High Risk Hope in Florida after her own child was almost born prematurely at 24 weeks. Providing ongoing patient support throughout pregnancy and delivering "Bed Rest Baskets" to patients, High Risk Hope serves as a support system for women placed on long-term hospital bed rest.

Acquanetta Hunt was placed on hospital bed rest during the holiday season, forcing her to miss Christmas morning with her two-year-old. Hunt was considered to be high risk, dealing with the uncertainty of her unborn child Elijah and his health. High Risk Hope delivered a "Best Rest Basket" to Acquanetta on Christmas Day, giving her the hospital Christmas she never imagined.
"High Risk Hope's support was refreshing and it was just nice to know that there are people in the world who may not know you personally but are willing to provide gifts as a positive distraction, bringing light to a very uncertain situation. Thank you!"
Feeding Tampa Bay
The state of Florida is fourth in the nation for family hunger. Throughout the state, one in six people deal with food insecurity daily. Part of the national Feeding America network, Feeding Tampa Bay works to fight hunger by through nourishing those in need and de-stigmatizing hunger.
The country's longest government shutdown has placed more than 800,000 government employees in a state of instability. Many of these employees are being forced to work without pay, unsure of when they will receive their next paycheck.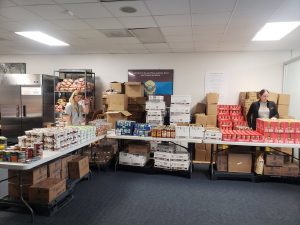 With no end to the shutdown in sight, businesses and organizations across the nation are coming together to make sure these employees have basic needs.
Feeding Tampa Bay teamed up with United Way Suncoast and the Tampa International Airport to set up a food bank to distribute food and toiletries to the airports government employees who are currently working without pay — because no one should go hungry.
Jewish Family and Children's Services of the Suncoast
Embracing the power and importance of a connected community, JFCS of the Suncoast works to ensure families and children are receiving the support they need. "Guided by the Jewish tradition of helping all people, JFCS empowers individuals and families towards self-sufficiency."
One of the various ways the organization serves others is through its annual Adopt-a-Family campaign. During the holiday season, JFCS of the Suncoast encourages the community to give back to families in need.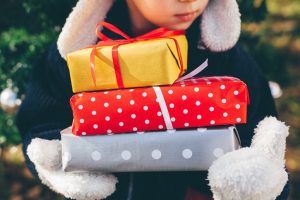 "We are happy to announce that we had 266 children that were adopted this year. What's even more amazing is that we added 19 new children after the deadline, and still came through with gifts cards collected by volunteers donated from Publix, WalMart, Target and the Dollar Tree. Our donors were very generous and donated approximately $25,000 in clothing, presents and gift cards. How wonderful it is for us to be a part of such a giving community. Gifts were collected and distributed for both Hanukkah and Christmas. Thanks to the community and staff for all that you do every day to change the lives of those in need."
Through the community's support, the organization has been able to reach more than 635 children from nearly 260 families since 2014.
Great Aspirations Scholarship Program 
Student debt is a challenge that many are facing across the country. On average, students who graduate with a four-year degree leave college with more than $40,000 in debt.
GRASP serves as a resource for students in the state of Virginia seeking funds for post-secondary education. Through college success programs, assisting with the financial aid process as well as awarding and administering scholarships, GRASP works to ensure all students have an equal opportunity to continue their education — regardless of financial circumstances. Jamiee Freeman, a GRASP alumna, graduated from Richmond Community High School in 2013.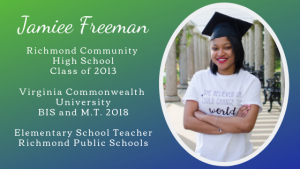 "GRASP assisted with financial aid questions, as well as provided me with helpful tips, tricks, and advice during my college career."
After receiving her Bachelor's and Master's Degrees from Virginia Commonwealth University, Freeman is now teaching third grade at the same high school she attended as a child.
Share Your Stories. Win a Grant.
Throughout the month of January, we're inviting nonprofits across the country to share their stories using the hashtag #MagnifyGood to amplify their message. To help increase their impact in 2019, we're giving one organization a capacity-building grant worth $10,000.
Magnify the good of your organization — take a minute to tell us about yourself and register here.
photo credit: High Risk Hope, United Way Suncoast, JFCS of the Suncoast, GRASP, John Towner via Unsplash