We are in a time of tremendous change — especially when it comes to charitable giving. Things are moving faster, and advances in technology have altered the philanthropic landscape. The way donors come in contact with an organization has changed because of instant access to information online that's available 24/7.

Prospective donors are in a constant state of search, looking for organizations that align with their passion to give back and their desire to contribute gifts that make a difference.
Rather than waiting for a request for donations from a nonprofit, a donor can search and find almost instantly what they seek. And they can evaluate that information, form conclusions and make decisions without ever having a face-to-face meeting.
This is where understanding the dynamic of the donor's journey can help your organization stand out and draw in prospective donors who seek to connect.
What is the Donor's Journey and why is it important?
The donor's journey maps human behavior in the age of the internet and all things digital. It is the natural path prospective donors take to become aware of, evaluate and donate to causes that touch them and align with their values.
Before the digital age, donors relied on donor-development professionals for information about nonprofits. Now prospective donors have access to information on multiple devices at a time and place of their choosing. By the time they contact you, they know more about your organization than ever before.
If you aren't taking this into account, you're a rudderless ship sailing into troubled waters. With this dynamic in mind, let's take a look at the four phases of the donor's journey.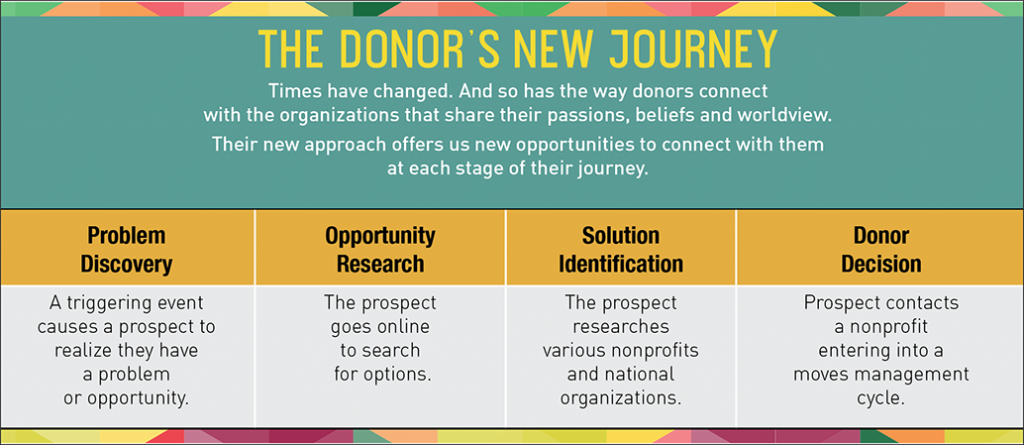 Problem Discovery – A triggering event causes a prospective donor to realize they have a problem. It could a family member who has been diagnosed with a chronic disease, or perhaps they read an article in the paper describing a homeless family who can't feed their children. The prospective donor is moved to action by this triggering event.
Opportunity Research – The prospective donor goes online to look for solutions to the problem. They want to discover what, if any, solutions exist that they are unaware of. This is the natural reaction to problem-solving that virtually everyone can identify with.
Solution Identification – The prospective donor researches various local nonprofits and national organizations to discover which organizations have solutions that appeal to them. This is what Google calls ZMOT – The Zero Moment of Truth. If your nonprofit is not there when ZMOT happens, you're at a serious disadvantage.
Donor Decision – By the time a prospective donor reaches the final phase of the donor's journey, they've learned a great deal about your organization. They've evaluated their options and contact you — and now enter into the Moves Management cycle.
This new dynamic calls for a new approach:
It requires a better understanding of who your best donor prospects are and what motivates them
It requires a more thoughtful approach to the way we create content
It requires a strategic collaboration between the donor development and communications departments of nonprofits and social good organizations
The intent isn't to overwhelm you but rather to challenge the way you are thinking and offer a new way forward. Check back often as we share our ideas on how to navigate in today's environment. You can also learn more by downloading Connective Impact: Accelerating donor support by uniting development and communications.