At MagnifyGood, we believe that connecting with people, not just sending messages to them, creates deep, emotional ties. By focusing on connecting, we have an opportunity to truly understand our audience and create compelling messaging and visual elements that have the ability to transform communities and guide them toward action.
When Pines of Sarasota Foundation embarked on a multimillion-dollar project to bring much-needed renovations to its aging campus, they knew they needed to reignite the community's support, and they connected with MagnifyGood for help.
The History:
As we grow through life, love keeps us grounded. It drives us to put down roots. But in our later years, many of us face the prospect of having to do something that can seem daunting. To put down roots in a new place. A place that will help us meet needs we hadn't planned on having. We want it to be a place where we can live with dignity, comfort and respect. Even if we outlive our financial resources.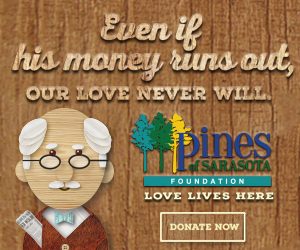 That was the vision in 1948, when members of the community came together to create the Sarasota Welfare Home with only six residents. More than 70 years later, the Sarasota Welfare Home has evolved into Pines of Sarasota, but its mission to offer a fulfilling, dignifying life in a senior care community remains. Through its service, countless individuals in the community have had a loving place to call home — even after they've outlived their financial resources.
Pines of Sarasota Foundation's Opportunity:
The nature and extent of Pines' generous services to the community makes acquiring funding vital to sustaining its impact. Due to limited and reduced government funding, Pines of Sarasota Foundation was faced with the challenge of maintaining its unique, dignifying and loving community. But with every challenge comes opportunity.
The Solution:
MagnifyGood worked with Pines of Sarasota Foundation to develop and implement a fundraising campaign that sparked a movement. To ensure we were able to create a campaign that inspired an emotional connection between the community and Pines of Sarasota, we began development with our magnification process. 
To help Pines of Sarasota Foundation address its fundraising challenges, we needed to comprehend its goals, desires, challenges and key audiences.Through our initial WhyGOOD session, we gained an understanding of Pines' desire to challenge the community's existing perception and build grassroots support that had the ability to ignite a movement. 

By speaking with leadership and key stakeholders, we grasped what they believe makes Pines so special. With this, we were able to craft refreshed, elevated and enticing messages and visual elements for Pines that captured its benefits to the community and solidified the notion that Pines is more than a senior living facility — it's a place where love lives and endures the unexpected, yet inevitable challenges of aging. 
In addition to amplifying its message, we helped Pines reinvigorate its brand, applying the theme "Love Lives Here" throughout its brand. 
The GOOD:
The generosity of others is what makes Pines of Sarasota's work possible. For more than 70 years, Pines has been an incredible asset to many members of the community.. 
Through our work with Pines Foundation, we were able to help it surpass its fundraising goals. With the help of an engaged community, Pines was able to make $3.9 million worth of renovations to its facility. In addition, we were able to help Pines infuse new, evergreen messaging and creative elements into its overall brand — strengthening the definition of Pines in the minds of its key audiences, as well as the community.