Years of working with the social sector has taught us that creating deep, meaningful connections is the key to powerful messaging. It is our core belief and our mission as communicators. We want to change our world – one connection at a time.
Connecting with others on an emotional level is more authentic, more human and more powerful than solely relying on messaging. Connected communities have the ability to create movements and work together to advance social good.
Connected communities like the Craftivist Collective, created by Sarah Corbett, craftivist and public speaker.
We were first introduced to the idea of 'craftivism' when we saw Corbett speak at the annual frank gathering in Gainesville, FL. Craftivism simply put is an expression of activism through crafting activities like knitting, painting or sculpting.
Crafting+Activism = Craftivism
Corbett walked us through her emergence into craftivism, how it helped her build an online community of craftivists and how their community has worked toward 'changing our world one stitch at a time.'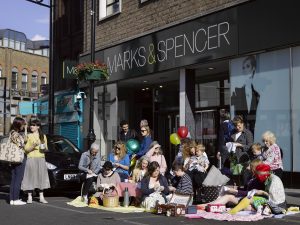 In an attempt to urge Marks & Spencer to pay their staff a living wage, Corbett rallied 14 'craftivists' who were loyal customers to the retailer and assigned each of them one of the company's board members. They were instructed to find out as much about their board member as possible and craft a message encouraging the member not to 'blow it' on an M&S handkerchief.
The handkerchiefs were personalized with stitchings of things like flowers and music notes to align with the board member's interests and passions. Corbett wanted to meaningfully connect with her audience, and it worked. Within 10 months, M&S announced they would pay 50,000 staff the suggested living wage.
Corbett achieved her mission by focusing on connecting, not communicating. She achieved this by taking two important steps:
Understanding the board members worldview:
Corbett focused on understanding what was important to board members. She knew that hearing from loyal customers would make a greater impact.
Connecting with their passions:
Understanding the board members on a personal level allowed craftivists the opportunity to create an emotional, empathetic link by gifting them a tangible symbol of their passions and interests.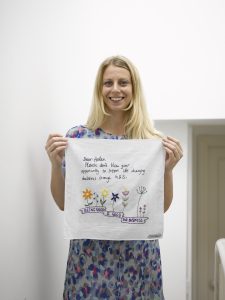 Betsy Greer, the woman attributed with coining the term 'craftivism,' says craftivism forces us to connect with each other. When asked why we need craftivism, Greer's answer sold us even more.
"Because we create to connect beyond ourselves. Whether we're connecting with someone next door or across the globe. Craft and activism both take and inspire passion.When used as a joint force, they can quite possibly begin to slowly challenge and change things."
Connecting with each other gives us the ability to create meaningful, sustainable change for good. It gives us the opportunity to truly understand our audience and be authentic in our messaging. It helps us rally our tribes, and our tribes help us build movements.
photo credit: the Craftivist Collective (license)